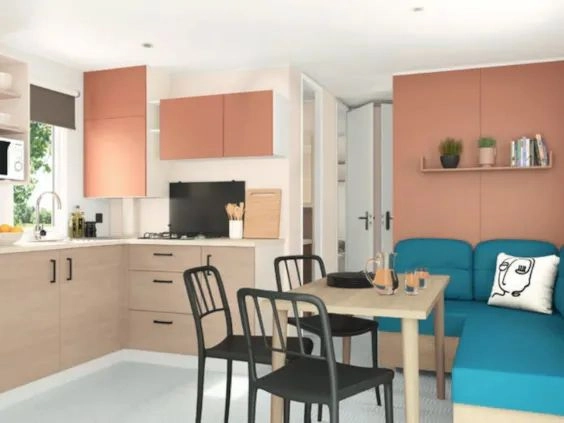 Mobile home Loggia Comfort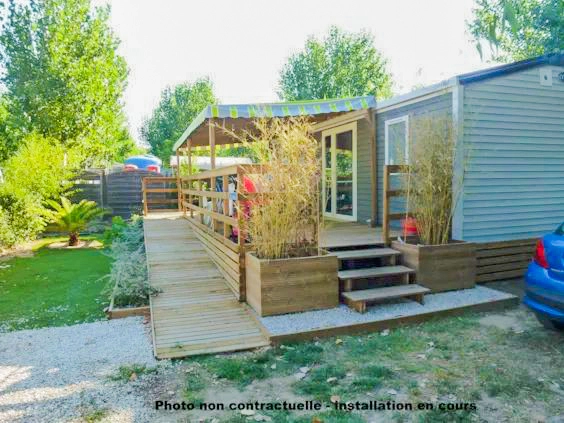 Mobile home PRM Cottage Comfort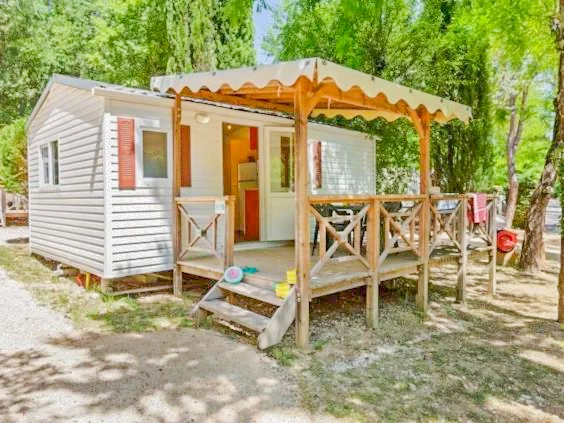 Mobile home Domino STANDARD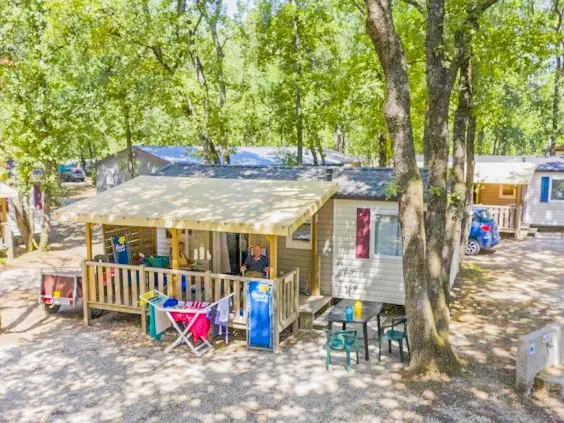 Mobile home Provence – Evasion COMFORT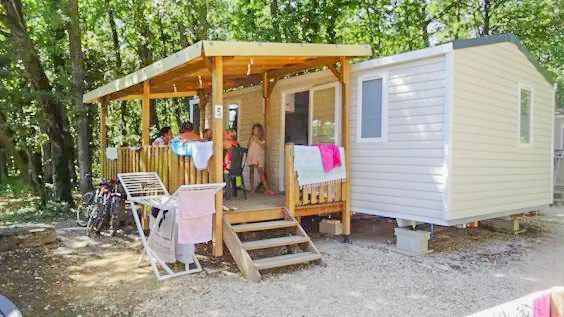 Mobile home Lavande COMFORT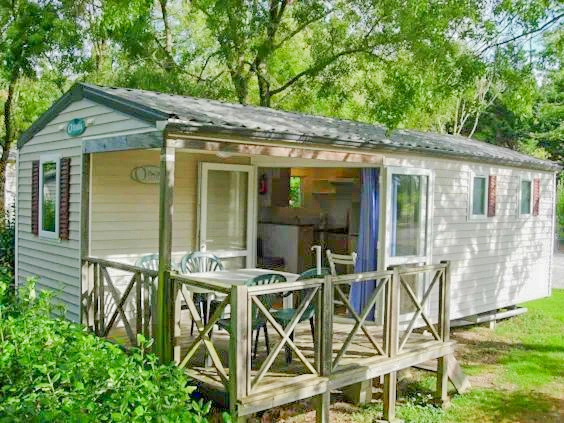 Mobile home Lavande COMFORT
All our mobile homes for rent in Grignan
Our campsite in the Drôme at Grignan offers a complete range of mobile homes and unusual accommodation for rent in the Drôme Provençale. For your holidays with family or friends, you can choose between our accommodation and our caravan pitches. You can opt for the comfort of a mobile home to rent in the heart of nature, with different options for an unforgettable stay.
Choose to stay in a 4 person mobile home rental, our campsite is a real haven of peace where you will soon find rest. In this well-shaded green setting, the intimate and friendly atmosphere invites you to relax.
Our range of mobile homes in Drôme provençale
Several ranges of mobile homes are available at the best price at the campsite. It is up to you whether you prefer a larger or smaller accommodation, with a large or small terrace.
New this year: a home adapted for people with reduced mobility. And yes, at Camping Les Truffières in Grignan, we adapt to everyone. We have installed a mobile home with a ramp to the terrace and the interior of the accommodation is designed for wheelchair access. In a large space, you will enjoy cooking or showering. All these mobile homes are equipped with air conditioning and television.
Our DOMINO mobile homes are the entry level of the rental range. These 4-bed facilities are ideal for :
Mobile home for couple
Mobile home for 2 persons with separate bedrooms
Mobile home for couples with a baby or small child
Small but cosy, these 2 bedroom mobile homes have everything you need for a successful stay.
At Camping Les Truffières, we think about your comfort. We offer mobile homes for rent for 6 people with 3 bedrooms for large families or for more space. With their covered terraces, you can enjoy family meals in the shade, surrounded by truffle oaks. All these mobile homes are equipped with air conditioning and television.

What do our customers think of rental properties?
Bruno G.
A small family campsite offering peace and quiet and the song of the cicadas. Very nice swimming pool, children's club with various activities, clean and well equipped mobile home. The sanitary facilities are very clean. 1km from the beautiful village of Grignan.a great week's holiday with our three girls.
Joanna R.
A great welcome to this family campsite, an ideal place to relax. Spacious and clean mobile home, park much appreciated by our two children. Thank you
Perrine L.
2nd camping experience for our little family. A great welcome, the children are greeted by their first name, which is very nice! The manager is very pleasant and always available to answer various requests. Spacious and well-maintained playground. The mobile home is pleasant to live in, well laid out and clean. The pool is great! Shallow but perfect. A small paddling pool next to it so it's great! We will keep the address for our next visit!
Discover our rentals and our rates!