Camping for bikers and
motorcycle lovers in the Drôme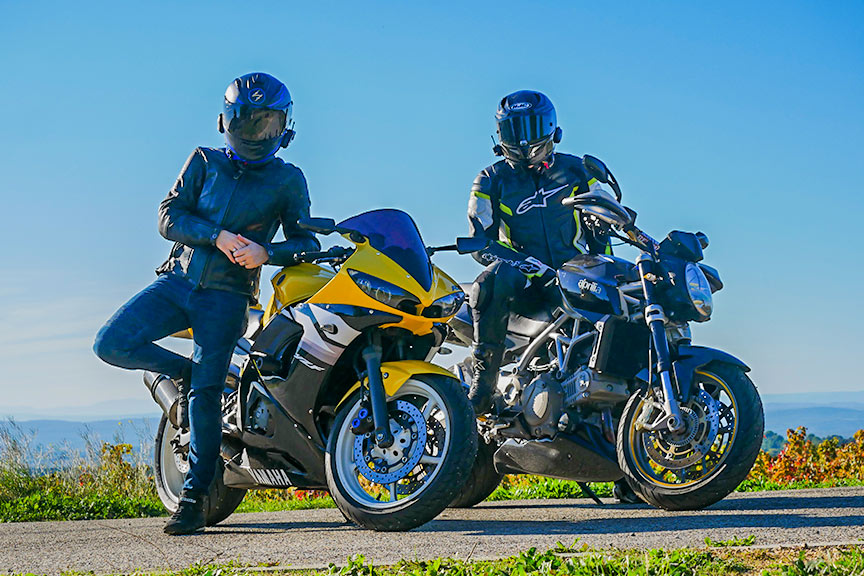 At Camping Les Truffières in the heart of the Drôme Provençale, Célina and Brendon do everything they can to make your stay a success!
We welcome bikers
Are you a fan of motorcycle travel? That's good, so are we!
Passionate as you are about two-wheeled journeys, Celina and Brendon provide a special welcome to bikers. It must be said that the Vaucluse region is an enchantment to make a motorcycle trip on exceptional routes, between fabulous landscapes and perched villages.
Motorcycle tourists like to travel off the beaten track, free to move about as they please: our campsite is ideally located to meet the needs of those who love freedom and spontaneity.
See you in our Flower Camping Les Truffières ! Mount your precious vehicle and let's go for an unforgettable moment of relaxation and discovery.
At Flower Camping Les Truffières, the atmosphere is child-friendly and family-oriented. We have thought about our campsite to give our customers calm and comfort, a place of conviviality and exchange. In short, we find in our campsite the philosophy of the bikers.

We are also passionate about our work, as mentioned above, and we offer facilities designed to facilitate your stay.
The best rentals for bikers in Grignan
For the accommodation, you will have the choice between :
of pitches for rent to pitch your tent. Let us note that our camp-site is located in an old truffle field, the majority of the sites are shaded, a rare service in the region's campsites. Some pitches are also equipped with a private area with sanitary facilities and kitchen on the pitch.
mobile homes for rent from 4 to 6 beds, with kitchen and living room area, bathroom and toilet,
bungalows with their covered terrace
a lodge tent all comfort : the biker who loves adventure, what better way to end the day than in a tent… but a comfortable tent? Our lodge tent will delight lovers of unusual accommodation, far from spartan tents: 34 m² with two bedrooms with real beds, a kitchen and a terrace ideal for aperitifs, meals or breakfasts facing nature.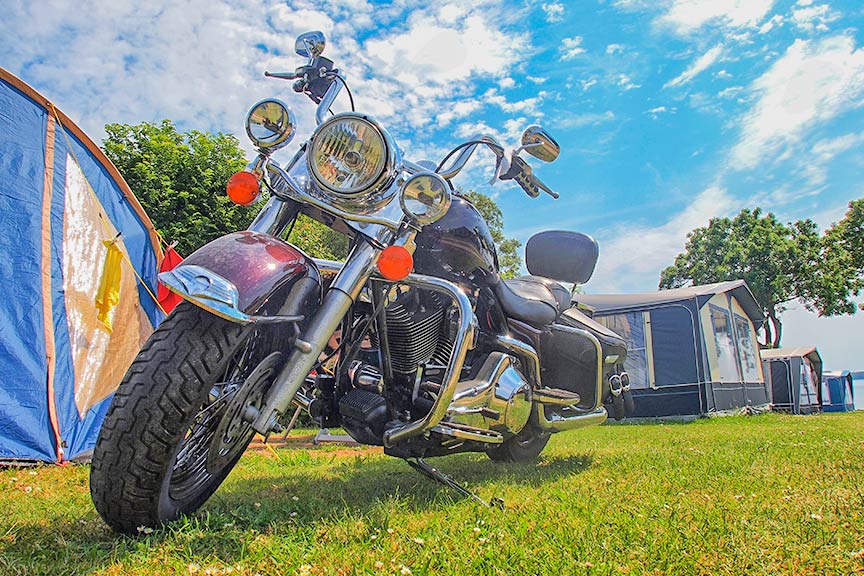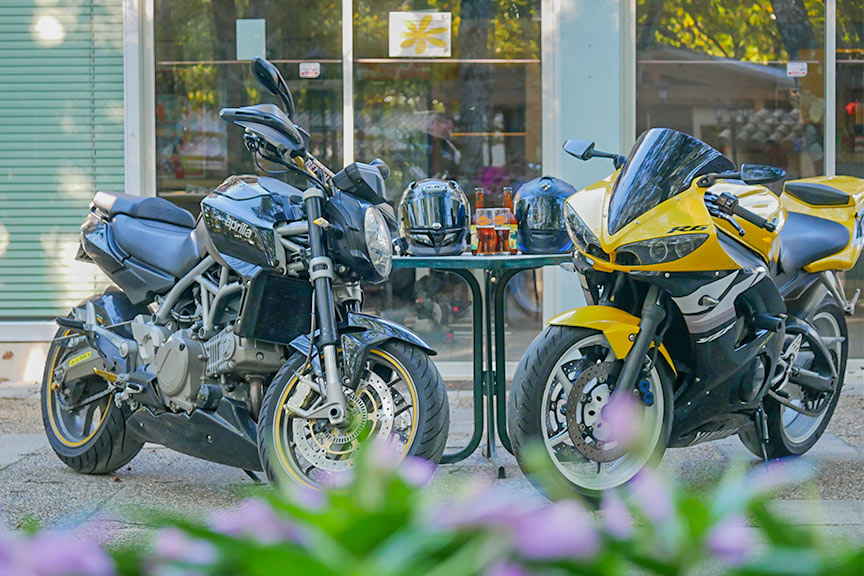 We reserve the best services for you
A special parking area
If the weather in the Vaucluse is generally mild, we prefer to take the lead and ensure a comfortable welcome for bikers and their bikes. We offer you of course a spacious and sheltered parking for motorcycles, if necessary.
A space reserved for luggage
Even if you are content with little, luggage is often a concern for bikers. As soon as you arrive, you can enjoy our space reserved for your bag, your equipment and your helmet. This room is of course directly under our custody, the safety of your luggage and your equipment will not be a concern until you can take your place in your rental.
A network of recognized professionals
Since arriving in this beautiful area, Celina and Brendon have identified serious professionals. As we know, the life of motorcyclists is subject to mechanical problems. If Brendon provides you with some basic tools, it will also be able to direct you to a network of professionals: mechanics, garages, dealerships, gas stations, etc. For the most serious problems, we have a motorcycle trailer.
A truly unique welcome
In addition to mechanical contingencies, motorcyclists' journeys are subject to the vagaries of weather and traffic. No more worries, you will find at Flower Camping des Truffières a personalized welcome : call us to announce your delay, we will wait for you even outside the opening hours, especially at night.
And be sure, if you've had one of the few rains of the season, to find something to dry yourself off and a good invigorating coffee when you arrive.

On-demand services will allow you to lighten the weight of your bike and your travel bag. Even if you are in a tent, you will have access to a table and chairs or refrigerator rental (depending on availability).

Likewise for mobile homes, lodge tents or bungalows, comforters, mattress covers and cushions are provided. But you can also rent sheets on demand, in partnership with a laundry in Valréas.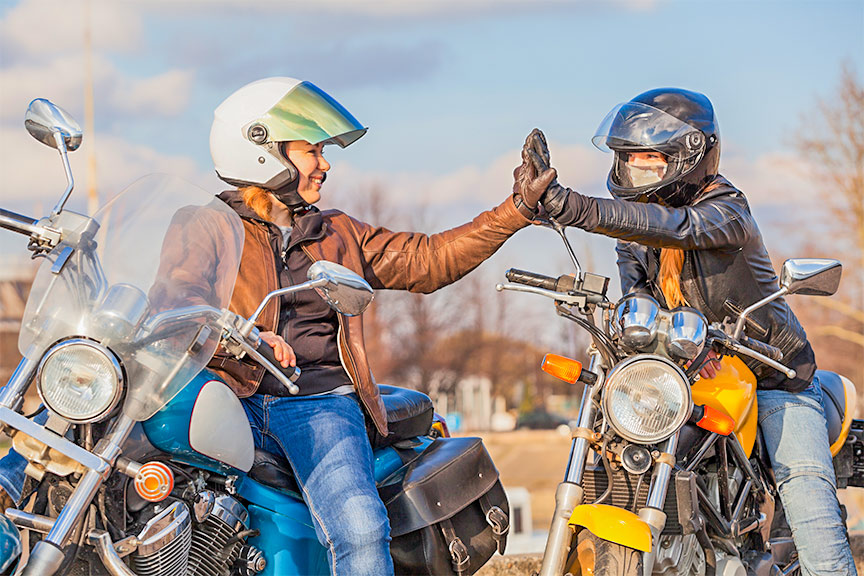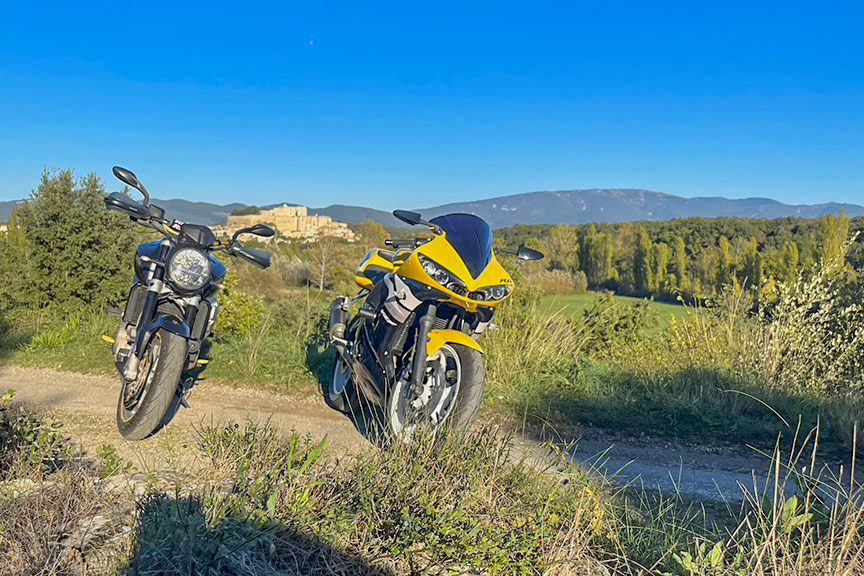 Visit the Drôme by motorcycle
Valuable information…
Celina and Brendon chose to take over Flower Camping des Truffières out of love for this beautiful region. They will be able to help you make a road book according to your desires: chosen itineraries, road conditions, good food and souvenir addresses, off the beaten track routes, stops to admire the landscape, etc. And in the region, there is plenty to make the trip unforgettable.
… on an enchanting region
The motorcycle is the perfect means of locomotion for rides in Drôme Provençale. Between the Mont Ventoux and the 3 Becs mountain range, the natural landscapes of the Baronnies National Park give pride of place to small winding roads, to breathtaking views, perched villages, etc.
You will have a real sense of freedom with your motorcycle in the region of Montélimar thanks to small unknown roads, out of the frequented places and often in the cool shade of the trees.

A passage by the Col de la Grande Limite, between Marsanne and Mirmande, is essential in our opinion to enjoy the nature and the architectural beauties of the villages.

Of course, a stop in Avignon is recommended and why not go to L'Isle-sur-la-Sorgue, the city of antiques?
Our campsite is really located in an ideal region of France for motorcycle enthusiasts. Our corner of Provence is a surprise at every turn.
After the walk, a real return to calm
After the road, you will have at your disposal all the comfort of our camping. Showers and toilets for people in tents, and of course pool and bar restaurant to continue the day in all conviviality. A collective barbecue area is available as well as a convenient laundry service in case of bad weather.
As you can see, the Flower camping Les Truffières is one of the few places in France that are perfect for bikers. Between spaciousness and conviviality, unforgettable rides and sleeping comfort, every biker is sure to find personalized hospitality and specialized services in our campsite.
Discover our services, our rentals and our rates!